Bitcoin fell after the U.S. Securities and Exchange Commission rejected a request to list an exchange-traded fund run by Tyler and Cameron Winklevoss, showing the regulator remains skeptical that the market for the cryptocurrency is sufficiently free of abuse to bring trading to the masses. The SEC said Thursday it isn't convinced that trading of the world's largest virtual token has adequate surveillance and that Cboe Global Markets Inc., which would have listed the Bitcoin ETF, failed to show that the underlying market was "resistant to manipulation." The ETF's value would have been tied to trading on the Winklevoss twins' Gemini exchange.
In rejecting the Cboe's proposal for a second time in 18 months, the SEC raised concerns about the reliability of trading and volume data for Bitcoin, according to a filing posted on the regulator's website. The agency's staff specifically called into question the ability of Bitcoin exchanges to sufficiently police trading.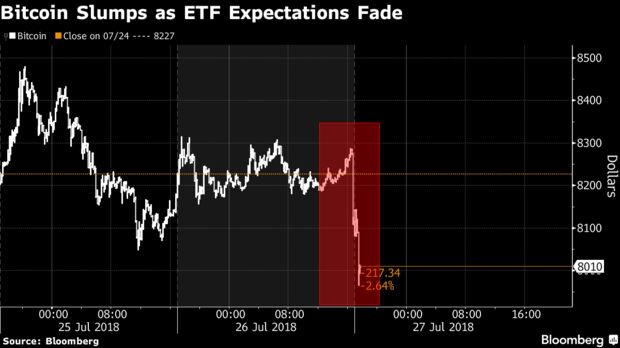 Bitcoin had been rising recently in part on speculation that the SEC would sign off on an ETF. The regulator's decision is a major setback for Bitcoin enthusiasts, because an ETF would have opened up the market to mutual funds and other institutional investors that are restricted from trading the token. Bitcoin fell by as much as 3.6 percent after the SEC's announcement to $7,848.46. That's almost 60 percent below the high of $19,511 reached in December.
"The record before the commission indicates that a substantial majority of Bitcoin trading occurs on unregulated venues overseas that are relatively new and that, generally, appear to trade only digital assets," the SEC said in its filing. "Regulated Bitcoin-related markets are in the early stages of their development."
Cboe President and Chief Operating Officer Chris Concannon said the exchange took market stability and security "very seriously."
"Given U.S. investors are clearly already accessing these unregistered financial products, we also believe that investors are better served by products traded on a regulated securities market and protected by robust securities laws," he said in a statement. Cboe would continue to work with the SEC on winning approval for a crypto ETF, Concannon added.
"Despite today's ruling, we look forward to continuing to work with the SEC and remain deeply committed to bringing a regulated Bitcoin ETF to market and building the future of money," Cameron Winklevoss said in a statement.
Back when the SEC first rejected a proposal to list an ETF backed by the Winklevoss twins in March 2017, the regulator raised similar concerns that exchanges wouldn't be able to conduct adequate oversight. Many traders had assumed that the subsequent listing of Bitcoin futures contracts on markets run by Cboe and CME Group Inc. would resolve some of the regulator's concerns.
"Because Bitcoin markets are still evolving in significant ways, and because there is no comprehensive data source reflecting Bitcoin trading, it is not currently possible to state with confidence what share of volume any particular spot trading venue has captured or will capture," the SEC wrote Thursday.
The SEC is considering several other applications for crypto ETFs, which could still be approved. The Cboe also can appeal the agency's decision in federal court. However, the SEC indicated it remains concerned that crypto markets aren't mature enough to support an ETF. SEC commissioners opposed the Cboe's request in a 3-1 vote.
In the lone dissent, SEC Commissioner Hester Peirce said that by rejecting a Bitcoin ETF, the regulator might actually undermine investor protections. That's because doing so prevents the market from becoming more institutionalized, she said.
The SEC's decision "sends a strong signal that innovation is unwelcome in our markets," Peirce said.